Family Knows Future of Oysters Is in Farming
They are an oyster family. The grandfather of Biloxi native and seafood restaurant owner Clifford Lancon opened a first raw and steamed oyster processing plant in 1919. Clifford said he learned everything about growing and harvesting oysters from him. Clifford's son, Jason, said he has fond childhood memories of sliding down the mountainous piles of dried-out oyster shells at various shucking houses. Today, only one oyster shucking house remains in Mississippi, and the pile of shells is a fraction of the size it used to be.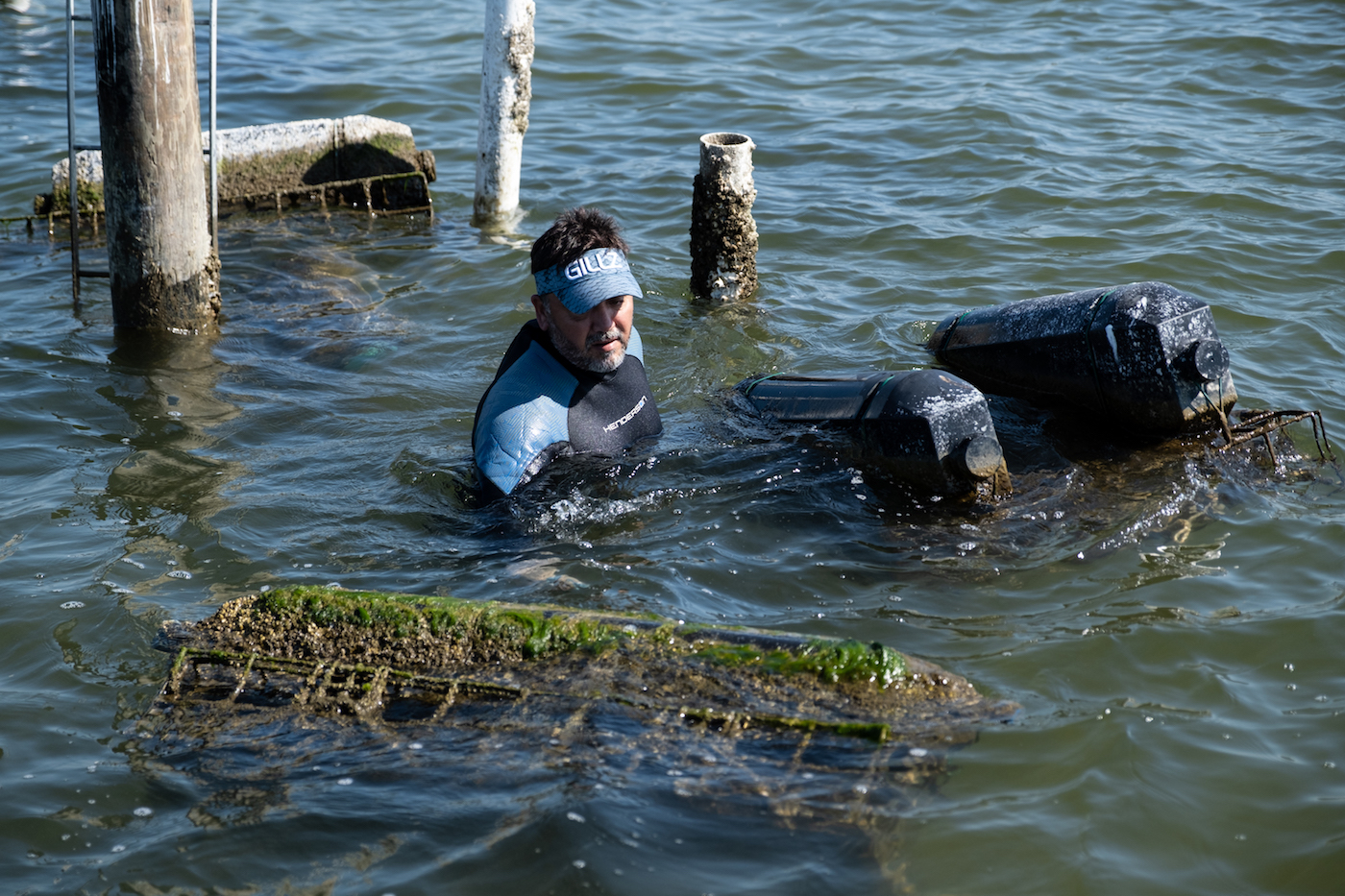 Billy Schuerman
Jason Lancon secures oyster traps that had come loose during Hurricane Delta in 2020. The Lancons faced weeks of repair of damage done to their farm during the record hurricane season
"This generation, the aquaculture side of the industry, will never be what it was before, back from dad's generation," Jason said. 
These days father and son operate a two-acre oyster farm near Deer Island off Biloxi in waters leased to them by the Mississippi Department of Marine Resources. Oysters are among sea animals that cannot survive without saltwater. When the Bonnet Carré spillway was opened in 2019 to divert flooding from the Mississippi River, freshwater flowing into the Mississippi Sound killed 100 percent of the oysters the Lancons farmed. (see related story, https://msclimatereport.com/2020/11/17/more-river-flooding-means-less-gulf-of-mexico-seafood/) Not only did they have to start over from scratch, they intend to remain in and promote growth of the oyster farming industry. Their first fully-grown harvest came at the end of 2020.  
To get started, the Lancons received their young oysters from other states or from schools such as the University of Southern Mississippi and Auburn University. They grow them in cages immersed into Gulf of Mexico water. "Helping" oysters by providing habitat is not new to them. Clifford's grandfather also helped build a manmade oyster reef off Pass Christian.  
It takes anywhere from 10 months to a year to fully grow an oyster in the Gulf of Mexico due to its warm waters. In a way, this is a bonus because in other areas such as the waters off the Northeast and Northwest coastlines, it can take up to two years.  
As with many land crops, the oysters are pre-sold. The Lancons take orders ahead of time because they have to grade and clean the oysters. The oysters then are put into sacks and refrigerated within a few minutes. If the oysters aren't the right temperature, Department of Marine Resources inspectors tell the Lancons to take the oysters back or confiscates them.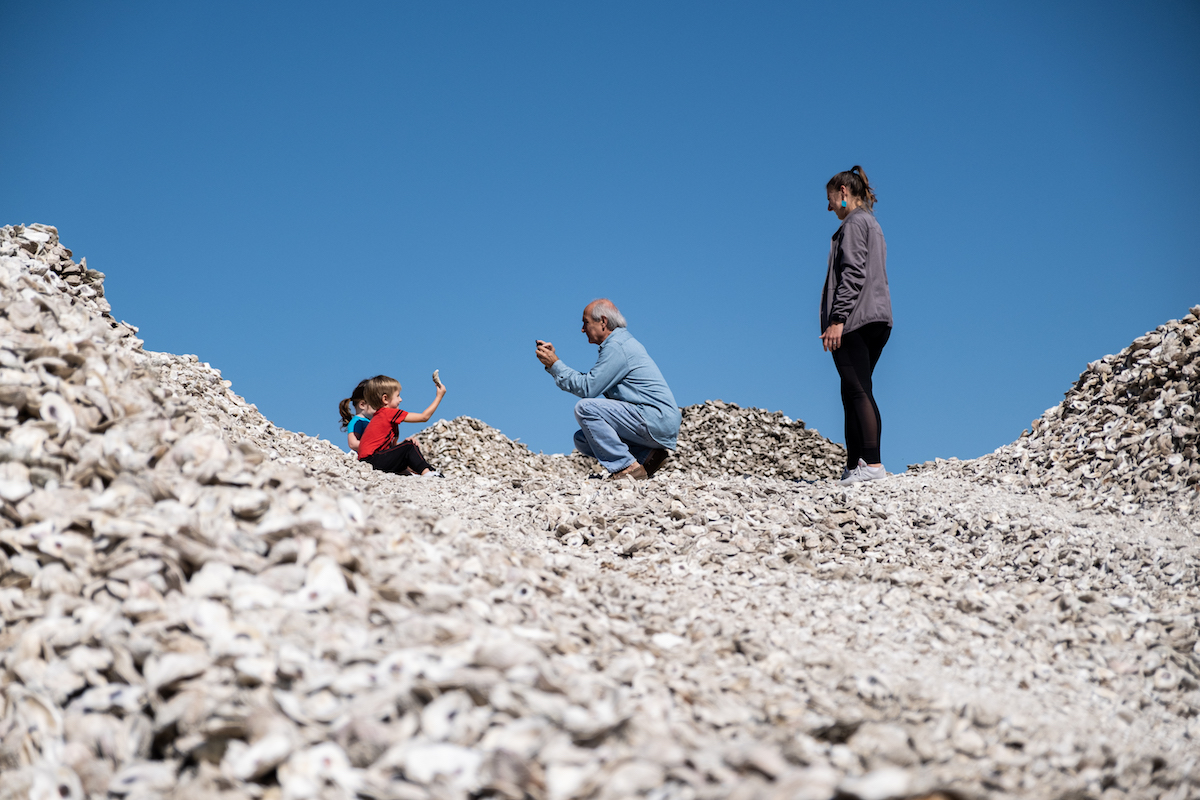 Billy Schuerman
Clifford went through a class at Auburn University to be certified to start his farm. He hopes to teach more people how to farm and garden oysters so they can the industry in Mississippi can grow. 
The father-son duo also plans cultivating their own oysters. They purchased larvae from Auburn, and they began cultivating them in an up-weller in the Biloxi Small Craft Harbor. An up-weller is an apparatus that houses baby oysters and feeds them algae from the water until they are big enough to latch onto cultch, a mass of material that serves as an oyster bed. Jason also visited the Gulf Coast Research Laboratory (GCRL) to learn more about their cultivation process.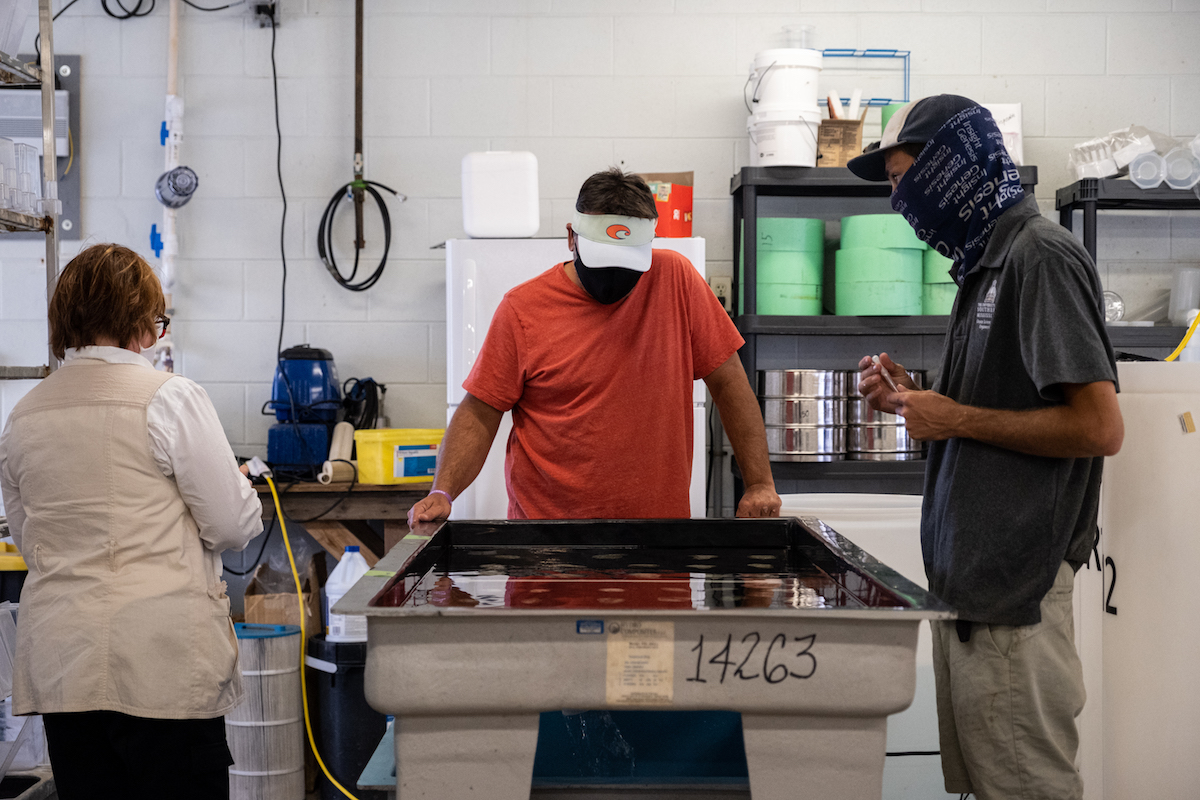 Billy Schuerman
Jason Lancon (center) learns about different methods of encouraging oysters to reproduce in hopes of carrying some practices back to his family oyster farm.
"We set our own oysters this year," Clifford said, "And so we were glad that we did it. We learned a lot, and we're ready to move forward." 
They plan on being 100 percent autonomous by spring. They set sights on hopefully creating an independent oyster industry in Mississippi. As of right now, that is their only concern. 
"[The Department of Marine Resources] gave each student 10,000 oysters," Clifford said. "And they actually purchased oysters from a hatchery in Alabama to give to their students, which was I mean, that's fine, you know, but we would love to have seen it come from Mississippi. So that's what we're trying to do. We're trying to supply our farmers first and foremost, with oysters. That's our goal."  
The oyster farming industry is something to watch. With the loss of almost all of the wild oysters in Mississippi coastal waters, this is one of the biggest solutions. 
The market awaits. "Right now, there is not enough supply to meet the demand," said Angelos Apeitos of the GCRL. "And, you know, based on the current information, we don't think that any single state or nationally, anywhere can even get close to meeting that demand."