Forests are an integral part of Mississippi's ecosystem and economy. Change may come slowly and quietly, but is no less profound. 
The Extension Service at Mississippi State University reports that more than 60 percent of the state's land area and almost three-fourths of the total is privately owned. The timber industry is, in a word, big. From harvesters to drivers to timber cruisers and mill personnel, trees supply more than 70,000 jobs in the state. Environmental issues such as fire, drought, pests and invasive species all threaten the overall health of the state's forests. 
"I think one of the reasons people have a problem identifying with trees versus other agricultural products is, for example, if you plant corn and you get too much rain and it floods your field it's easy to see that your corn didn't make it," said State Forester Russell Bozeman.  "But with trees it could be years before the effects of climate events are ever realized. It's an interesting challenge that we have as foresters when dealing with those events and how they impact forestry."  
The Mississippi Forestry Commission manages 480,000 acres of forest in the state. The commission works with the Mississippi Tree Farmers Association and others to provide protection, management and research information to the state and landowners.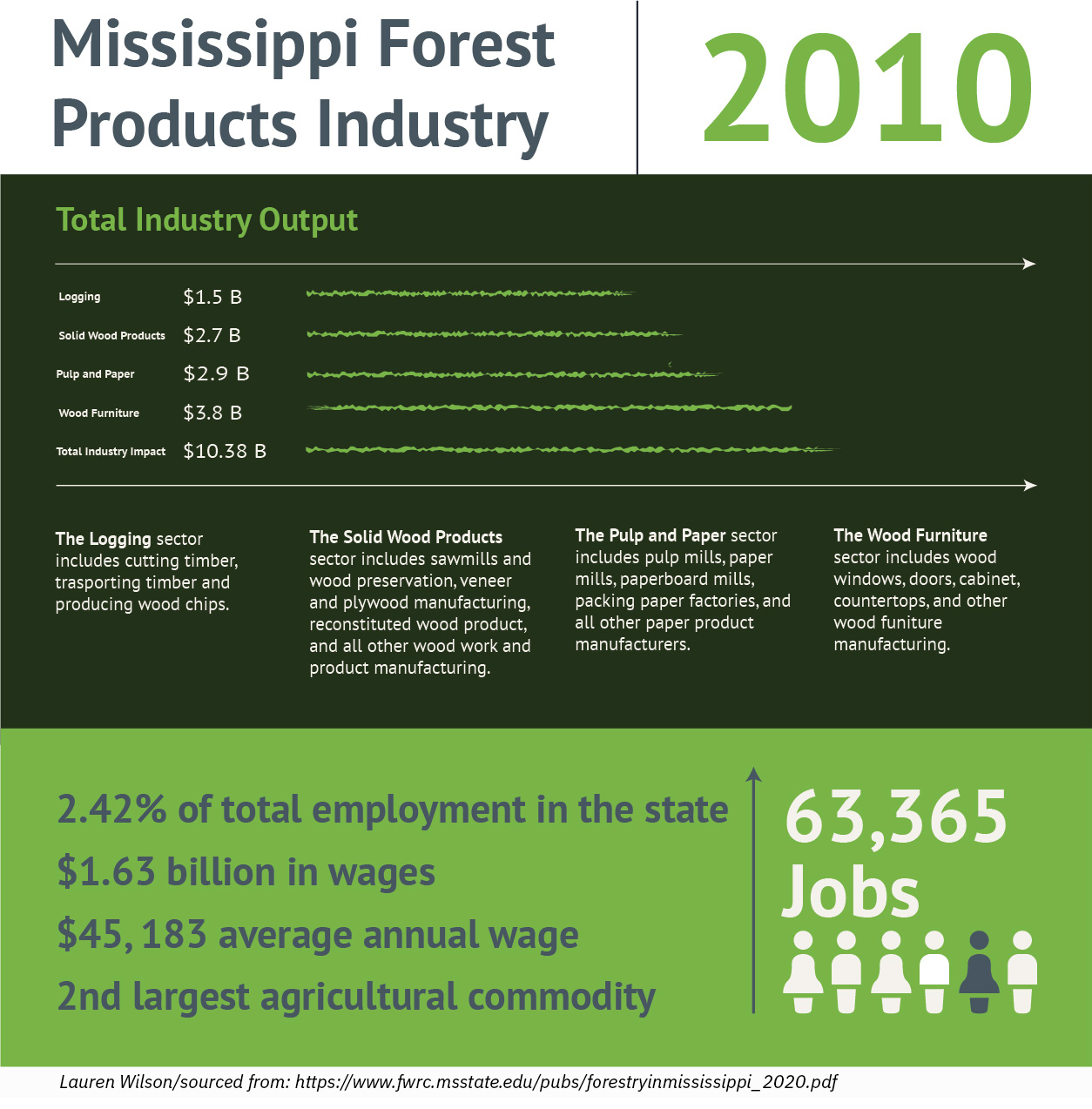 Market Diversification
"One of the biggest issues for forest owners is forest markets," Bozeman said. "The forests here are heavily owned by non-industrial private forest landowners. How the forest owners choose to manage their forests and how much management they apply to that forest largely dependent on the opportunity for return on investment. Since 2008 we have lost a lot of mills in the state, so there's not a lot of options for landowners to sell their wood." 
This presents not only an economic problem but an environmental one as well. Many of the forests planted for harvest back in the 1970s and 1980s are now due for harvest, but if the landowner has no one to sell to, they won't harvest. This can lead to overcrowding of that forest that can harm the health of the trees. 
And it's not only the private and corporate forest owners who feel the effects of prices and markets. Starting back in 1785 – before Mississippi was a state – one 640-acre section of each six-mile by six-mile surveyed township of land – was reserved for public ownership. Specifically, each "16th Section" was declared School Trust Land to generate revenue for public schools. The majority of Mississippi's 16th Section land is timber and farmland. 
"Right now, we have about $15 million in timber sales that go directly to the school boards. which they greatly appreciate," Bozeman said. They then put back 15 percent of that amount to put toward reforesting the area which was harvested." 
Traditionally, soft woods are harvested to make pulp for paper products and hardwoods are harvested for construction and furniture-making. Some wood byproducts, bark and sawdust, have been used in energy production – and that could increase. 
At Mississippi State University, faculty remembers in the School of Forestry have been researching ways to convert trees into a renewable form of energy. 
"We have several faculty members who are interested in short rotation woody crops, which are trees that grow really fast and can be used as a renewable, carbon-neutral form of energy," said Dr. Courtney Siegert, an associate professor at MSU.  "We're looking at the ecosystem services that they could provide for water quality improvement and soil carbon storage so that we can understand and quantify those services monetarily which would allow us to get bioenergy to a more comparable price point to fossil fuels."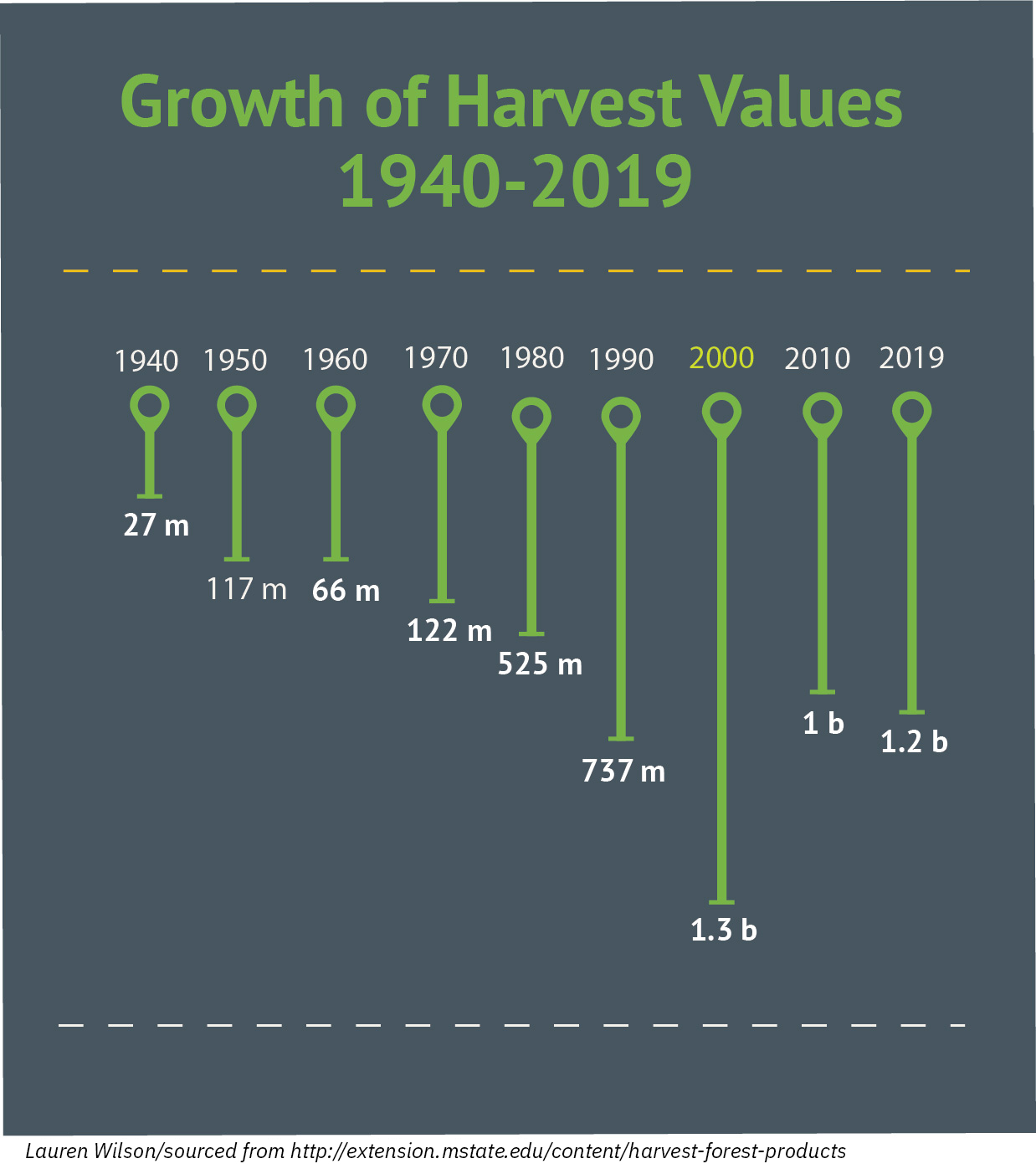 Sustainability I
nitiatives
With 75 percent of forests in the state privately held, it is important that landowners be equipped with the resources to learn and use best practices. The Mississippi Tree Farm Committee, a part of the American Tree Farm System, is dedicated to helping woodland owners manage their forests in a sustainable way. Landowners can voluntarily apply to become a Certified Family Forest. The certification recognizes forest owners for making the commitment to be good stewards of their land and grants them access to the program's resources which help to adopt a proper forest management plan. 
"There are eight standards to meet in order to be certified," said Mississippi Tree Farm Committee Administrator John Auel. "With any certification we want to make sure the owners are balancing three things: the environmental, social and economic aspects of sustainability."  Each year the committee recognizes a Mississippi Tree Farmer of the Year, identified as a Family Forest owner who has gone above and beyond in commitment to standards of sustainability. 
"The Tree Farmer of the Year is nominated from our four districts of the state," Auel said. "The winner can then go on to compete for the American Tree Farm System's national farmer of the year." 
Threats
Fall and spring are Mississippi's forest fire seasons.  The weather conditions for those seasons present conditions which can heighten the possibility for fires. 
"Most people aren't aware that Mississippi has well over 1,000 wildfires every year." Bozeman said.  "Our five-year average right now is 1,263 fires which consume about 21,600 acers of forest annually." Almost all of these fires are unintentionally caused by humans, he said, which is why the commission strongly encourages and educates the public on safe burning practices.  
Another issue plaguing the state's forests are pests and invasive plant species.  The Southern Pine Beetle is the most common pest found in the state and has the potential to cause the most harm. 
"The way climate affects the pests and allows them to cause problems is through stress on trees," Bozeman said. "This stress can be caused by storms, excessive rainfall, drought and other environmental stressors. There have been outbreaks in the past few years but the best way to mitigate that is through healthy forest management practices."    
"We saw this play out at the DeSoto National Forest," Siegert said.  "There were stands there that needed to be thinned out, and because they didn't tend to them, they had a massive outbreak of southern pine beetle. This only occurred in the stands that were not managed correctly." 
Siegert also shared facts about an invasive pest that could cause serious devastation to Mississippi's population of ash trees. 
"The emerald ash borer hasn't entered Mississippi yet, but they are in most of the surrounding states," Siegert said.  "In the states where the pests are currently, they have killed off all of the ash trees. Our native ash trees have no natural defense against these invasive pests, so eventually they could remove all of the ash trees from our forests." 
Ecosystem
For hundreds of years it has been known that trees and vegetation are essential to other life forms on Earth. In the natural phenomenon known as photosynthesis, leaves use solar energy to absorb carbon dioxide from the atmosphere and release oxygen as a byproduct. 
A lesser known part of forestry is the forest's connection to water quality. People don't often think about forests and water quality, but they should. The forests have the ability to both slow and filter runoff, which helps to drastically cut down on water pollution. Dr. Siegert, who concentrates largely on forest hydrology, explained the connection. "Maintaining healthy forests is crucial to maintaining proper water quality, especially for people who drink service water from a reservoir," Siegert said.  "When precipitation moves through forested soil it does so slowly and those soils are able to filter out any types of pollutants, and the canopies are able to capture atmospheric pollutants as well.  Water that originates from healthy forests is much cleaner than water that falls in an urban area."