In 2009, the Mississippi seafood industry generated total economic impacts of $275.59 million. 
Across the Gulf, 80.8 million pounds of shrimp were landed in all of 2019, down 98.3 million pounds in 2018 and over 35 percent below the prior twenty-year historic average (124.6 million pounds). 
Due to flooding, f

reshwater from the Mississippi River flowed

through the Bonnet

Carré

Spillway

into estuarine areas where brown shrimp normally grow for 118 days in 2019.
Inland regions might not notice it, but the Mississippi Gulf Coast is a major contributor to the state's economy. From oysters, to shrimp, to fish and more, Mississippi's aquaculture and commercial fishing industries are vital. In the wake of contributing factors — both manmade and naturally occurring — the Mississippi coast joins the longer Gulf of Mexico coasts of Texas, Louisiana, Alabama and Florida in facing environmental, and subsequently economic, peril.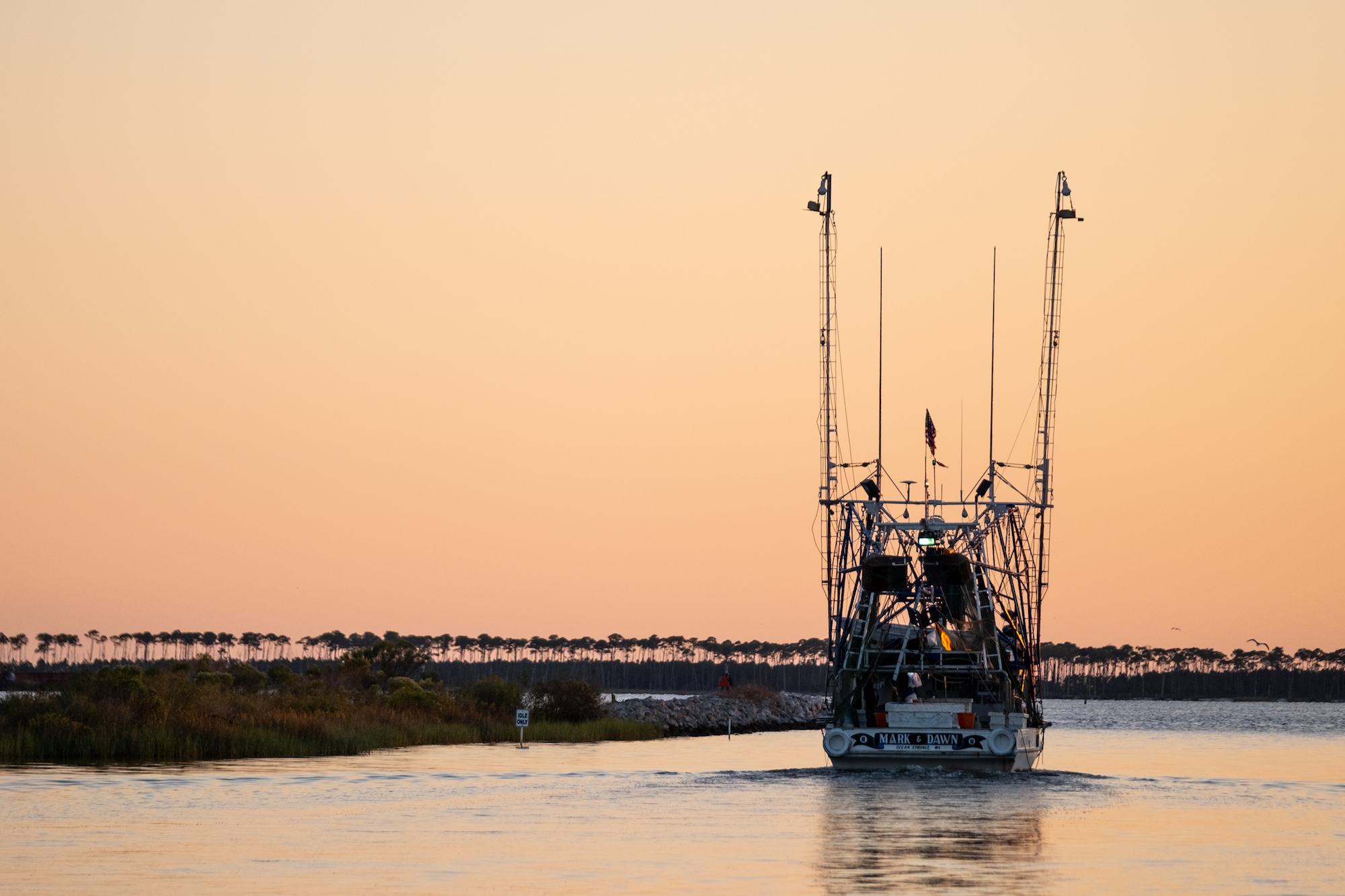 Billy Schuerman
Work to keep the lower Mississippi River deep and useful for commerce – and in its banks – during much of the last century meant diverting the flow of silt and nutrients away from thousands of square miles of marshland. The result has been vast coastal erosion, with Louisiana losing about a football-field-sized chunk of wetlands every 90 minutes. Hurricanes have also been occurring at higher rates and intensities since the 1980s due to an array of possible factors, one being the rise in the surface temperature of water.  
To reverse wetlands loss in Louisiana and avoid more flooding due to hurricanes, a Coastal Master Plan was adopted in 2005 and placed under the management of the Louisiana Coastal Master Plan. One of the plan's components has been more freshwater diversion, releasing freshwater from the Mississippi River immediately into coastal areas and eventually into the Gulf of Mexico. In several recent years, freshwater has been too plentiful due to record snow and rain upstream, forcing the rare opening of emergency spillways, including Bonnet Carré. The most infamous of openings so far was in Spring 2019 when freshwater flowed into the Mississippi Gulf Coast for an accumulated 118 days. 
The results was the loss of oysters, shrimp and other sea creatures in the Mississippi Gulf Coast that cannot just swim away. They simply can't live without the salt and minerals found in seawater but absent in freshwater. While the opening of the spillway is crucial to one environment and the people around it, it is detrimental to the neighboring environment and its people.  
Brown shrimp reside in estuarine areas in the Mississippi sound during their infancy. The adults spawn offshore in gulf waters, and then the larvae are hatched in the marsh areas to grow. Once they get bigger and mature, they move offshore to start the cycle over again. When the spillway opened, brown shrimp were forced out of their normal waters to a less ideal habitat where they faced reduced growth and higher mortality.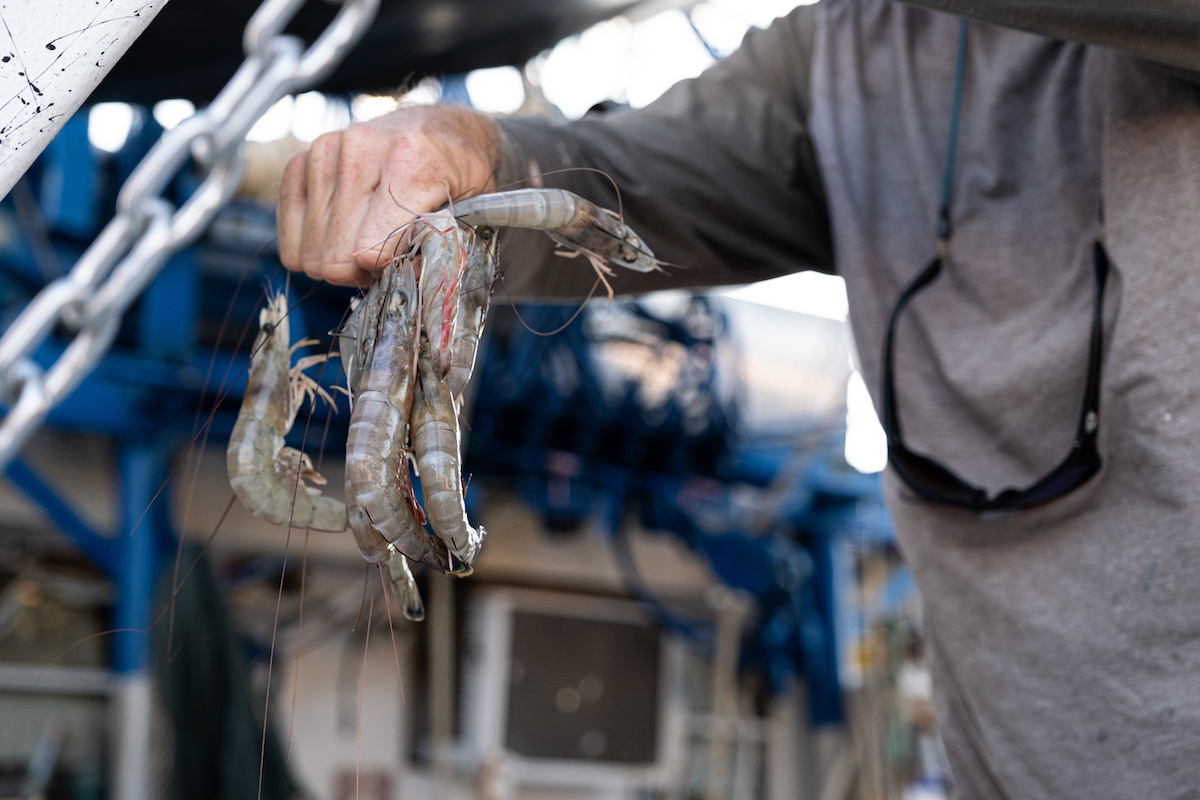 Billy Schuerman
By law, shrimp are counted at an average of 68 shrimp per pound in the commercial fishing industry. In 2019, shrimpers were actually bringing in around 90 shrimp per pound. The commercial fishing industry opened early that year so that fishermen could catch the smaller shrimp before they died off. 
Read Hendon is the associate director for the University of Southern Mississippi Gulf Coast Research Laboratory in Ocean Springs. The laboratory conducts research programs in marine aquaculture, biodiversity, ecology, and other related areas. 
Reducing flood damage, maintaining navigation and coastal restoration elsewhere has benefits for jobs and the economy, but there's a down side, too. "Particularly here," Hendon said. "It's kind of a double-edged sword because when we have spillway openings, we can have too much freshwater that leads to increased mortality in oysters and issues with essentially anything that lives in that estuarine environment. When we get into summer, fall, and spring when we don't tend to have as much rainfall, then we see too much saltwater in the estuarine system and that's a result of hurricane damage and wetlands loss in the coastal areas which allows gulf water to come more easily into the Mississippi Sound." 
Oysters need both freshwater and saltwater during their life cycle, and they cannot survive with just one or the other. With the influx of freshwater, the oysters were, of course, stuck. They lack the ability to move to avoid predation or environmental changes. 
Rayne Palmer is coordinator for the Mississippi Oyster Gardening Program. She knows a lot about the topic. The program is an ongoing project that focuses on developing oyster gardens for restoration and enhancement efforts.  
Some saltwater organisms, she said, were able to move toward the Gulf of Mexico and escape the vast inflow of freshwater into the vast Mississippi Sound and smaller areas. "Obviously, oysters can't move," she said. "and 95 percent of those oysters were wiped out by the freshwater. Our shellfish industry in Mississippi was pretty much nonexistent in 2019." 
In 2004, the state allowed 500,000 sacks of oysters to be harvested. One sack is roughly equivalent to 300 oysters. In 2017, the state only allowed 10,000 sacks to be produced. 
The National Oceanic and Atmospheric Administration (NOAA) made estimates on Mississippi's coastal economic impacts. In 2009, the Mississippi seafood industry generated total economic impacts of $275.59 million.  
Of this total economic impact, the commercial shrimp industry generated $141.77 million. Updated statistics of the shrimp industry from 2011 show that the sales contributions were $132 million, and it is still trending downward.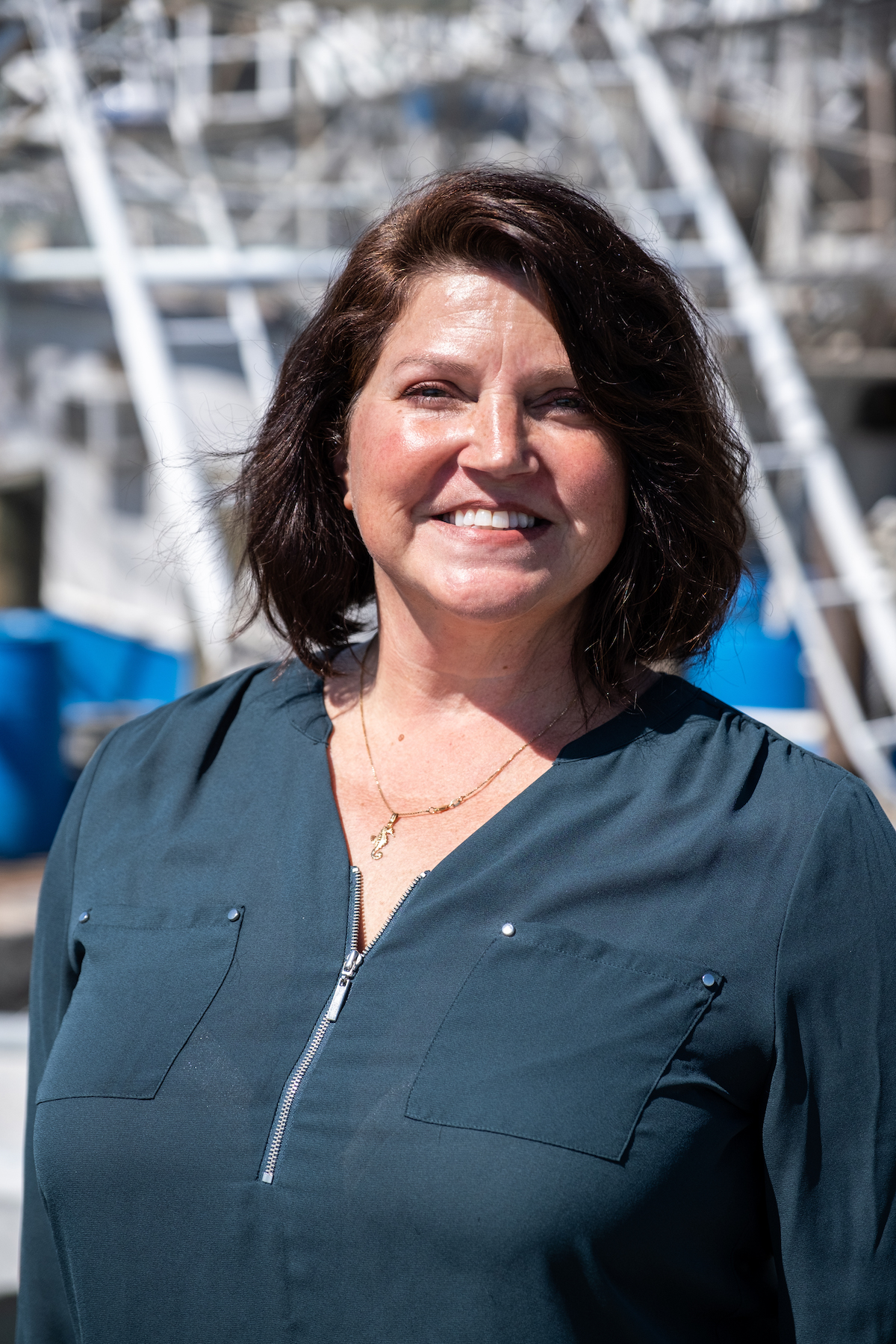 Dawn Ross is the assistant to the director of Mississippi Commercial Fisheries United in Long Beach. Mississippi Commercial Fisheries United assists in many service projects related to the commercial fishing industry. Ross said that the price of shrimp per pound in 2015 was $6. With much of the price pressure also coming from imports, today the same shrimp brings $3 per pound.  
"Unfortunately for us," Ross said. "The work doesn't go down, the gas and fuel prices don't go down, but shrimp prices are steadily decreasing and fleet is dwindling." 
The seafood industry in Mississippi generates a variety of jobs such as harvesting, processing, wholesaling, fish markets, restaurants and more. In 2009, it provided 6,342 jobs. Of these, the oyster industry contributed roughly 562 jobs. In a 2011 estimate, this number was reduced to 354 jobs. 
Negative trends in marine life on the coast led to a significant loss in commercial fishery jobs. For example, Crystal Seas Oysters, run by the Jenkins family, is the last oyster shucking house in Mississippi. Everywhere else closed down over the years or got wiped away by Hurricane Katrina and replaced by casinos. 
"It's just sad," Ross said. "All of my family has always been commercial fishermen, shrimpers mostly… Around Christmas, we would have our family bring home a big sack of oysters. To me, that's history, but it's also memories. It's hard to see the devastation that is caused. It's hard to see people without a job. You used to see boats left and right everyday selling their oysters, and now, unless you have the money to be able to go out and grow them, they just aren't." 
Clifford Lancon is a seafood restaurant owner and oyster farmer on the Mississippi coast. He said that he had to make changes to his menu due to the fluctuations in seafood availability. "To give you an idea," Lancon said. "In 2012, I was selling oysters for $5 a dozen on the half shell. Now we have to get $18 to $20 a dozen because they've gone up so much in price and availability."  
Clifford and his son, Jason, are learning how to cultivate their own oysters, raise them on their farm and sell them to other restaurants and oyster farmers. The Lancons manage only one of many oyster farms that are cultivated off of Deer Island and in other places around the coast.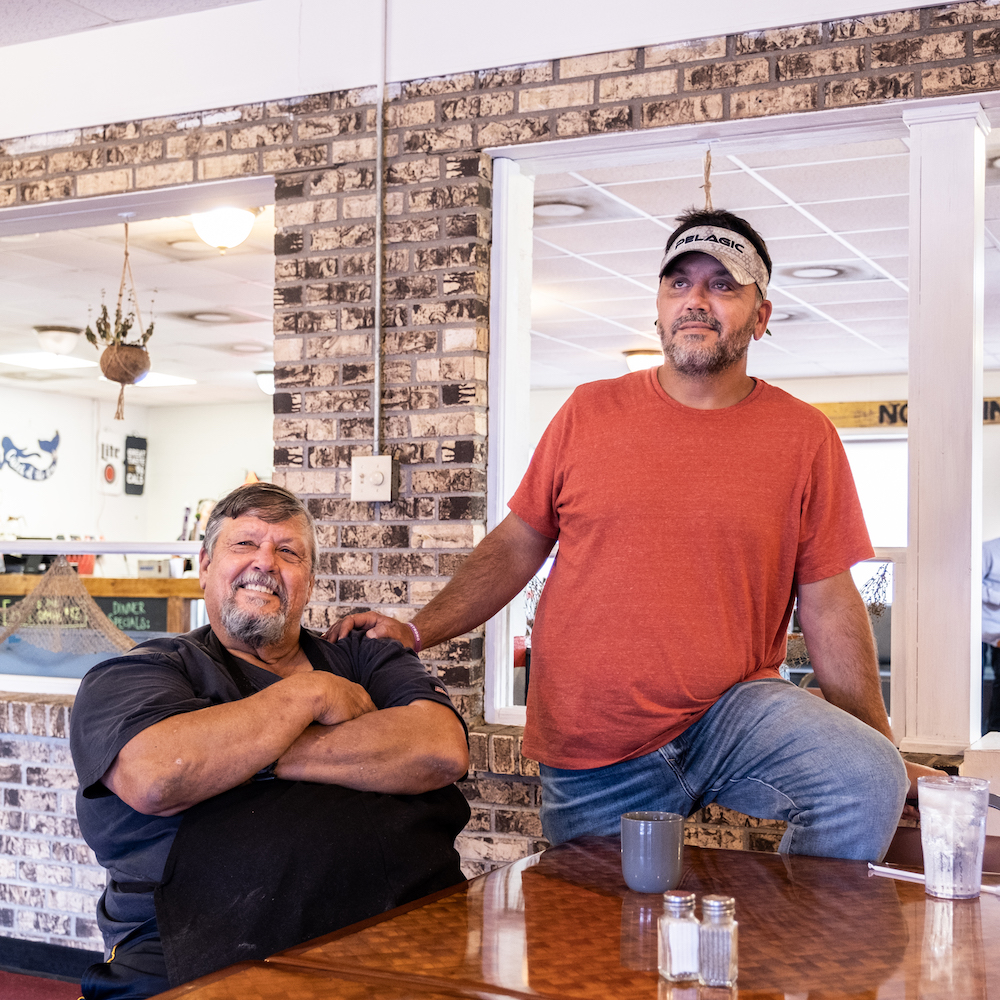 Billy Schuerman 
Clifford Lancon (left) and his son Jason Lancon (right) stand in their restaurant, CJ's local Cuisine. The Lancons were the first to begin oyster farming in Mississippi. Because of climate change disrupting the ocean conditions, their oyster farm has struggled to keep up with the demand for oysters.
There are several conservation, restoration and culture efforts currently under way on the coast. The Gulf Coast Research Laboratory handles a variety of aquaculture projects, one of which is cultivating oysters. Angelos Apeitos is a fish hatchery expert at GCRL. He manages many projects, including oyster cultivation. 
"It's exhausting," Apeitos said. "It's awesome… If you have work to do, this is where you're going to be; this is what you signed up for. Otherwise, sign up to work for an industry that allows you to have every weekend off. This is not this industry." 
There are hopes across the board for a balance to the coastal marine environment soon. People's livelihoods are at stake. Whether the term "climate change" is applied or not, aquaculture on the coast is changing, and life outside of the water is changing with it.